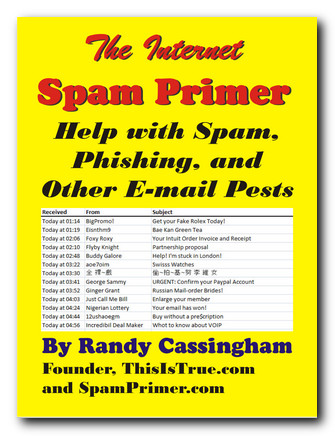 New! A full explanation of the spam problem and the solutions that will work for you, even if you're not a techie! It's everything on this site and much more, for just $3.99 on Amazon for your Kindle (or the free Kindle apps). Click cover to order.
This entire site only takes about 15 minutes to read,
so it's highly recommended you go through it all for the greatest understanding.
Continue to the introduction below, or jump right in and read about what spam is, who sends it, how they got your e-mail address, how to keep your address more secure because you cannot "unsubscribe" from their junk (but how to tell when you can), and why anti-spam laws don't help.
So, you're stuck with it? No: we'll tell you how to filter your e-mail to reduce the spam you get, and the flip side: how legitimate mail (to you and from you) gets caught in spam filters and how to improve the odds that your mail gets delivered. We wrap up with the hugely important concept of "phishing" and other scams that can literally result in your bank account being drained by criminals, how you may be an unwitting part of the spam problem, and a little about urban legends and chain mails. That's a lot, but you really can get it all read in just 15 minutes.
New! An alternative to reading this site: the information on this site plus much more has been published as an ebook, and is available now on Kindle (including Kindle apps for your smartphone or computer) for just $3.99. Includes full details on how Randy Cassingham solved his spam problem (he only gets 2-4 in his inbox per week out of the thousands sent to him), plus answers to questions from this site's readers, and more. Click on the cover to order from Amazon.com, or click for the Amazon store you use: Amazon USA | Amazon France | Amazon UK | Amazon Germany | Amazon Italy | Amazon Spain.
Introduction
The Spam Primer started in 1996 as a way to help people deal with a new problem: spam. Even then, author Randy Cassingham realized spam would become a huge problem for everyone who depends on e-mail (and it has: it's estimated that about 90 percent of all e-mail traffic is spam, which makes it difficult for legitimate e-mail to get through, and to find it among all the garbage!)
Spam has of course grown to be more than a nuisance: you can have your identity stolen and see all of your bank accounts drained. And that can easily happen! Take your time on this site and explore the various topics and concepts to make sure you understand them all. Each page is an easy-to-understand bite-sized chunk. Just click the link at the bottom of each page to move to the next one. Or you can look at the list below and choose the specific topic(s) you want to see.
Overwhelmed? Don't just shut your eyes and hope it will go away! It won't. Scammers want your money, and the less you know, the easier it is to get yours. You must protect yourself. Start with the Executive Summary, and then expand from there.
If you prefer, you can go directly to any of the pages that outline the whole thing to you:
Note: External links on any page open in a new tab or window so you don't lose your place.
About the Primer's Author
Randy Cassingham is the author and publisher of This is True, a weekly column founded in 1994 reporting on bizarre-but-true news stories. True is one of the first e-mailed publications, so Randy clearly understands both e-mail, and the difficulties that spam causes us all. You're invited to go to the site for a free subscription to This is True -- of course, that requires verified opt-in (which you'll learn about shortly!)
A Note from the Primer's Author
In the grand scheme of things, who cares about your e-mail? I do. And everyone who wants the Internet to remain a cool and useful place should. It's not just because I make my living sending e-mail that people truly want. (I make absolutely sure of that by using "verified opt-in", a system which all mass e-mail publishers should use.)
I also am a serious Internet user. I'm online most of the day, most every day. I don't want garbage streaming into my mailbox, but I do want to get the mail I have asked for, or that enables me to do my job. Yet I get, or my filters block, tens of thousands of e-mails every month that I have made clear I do not want. Hundreds per day. That's not "cool and useful," that's a massive burden. And it's all because people who want to force us to read their scams, get-rich-quick schemes, and other bogus come-ons, or to steal our hard-earned money. And that's what the vast majority is: if it was a legitimate product or service, they wouldn't need to use unethical and illegal means to pitch it, would they?
Last Update to this site: 9 April 2012
--Randy Cassingham
Author and Publisher, This is True®
Next Page: What is Spam?
Copyright © 1996-2015 echo date("Y"); ?> by Randy Cassingham, All Rights Reserved. All broadcast, publication, retransmission, copying or storage is strictly prohibited without prior written permission (contact the author). This is True® is a registered trademark of ThisIsTrue.inc and is used with permission. (Privacy Statement)